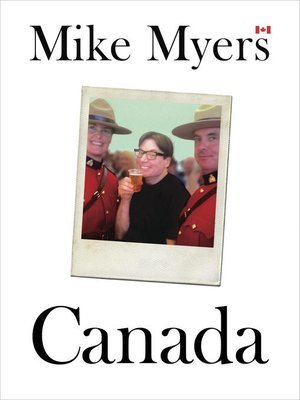 Comedy superstar Mike Myers writes from the (true patriot) heart about his 52-year relationship with his beloved Canada.

Mike Myers is a world-renowned actor, director and writer, and the man behind some of the most memorable comic characters of our time. But as he says: "no description of me is truly complete without saying I'm a Canadian." He has often winked and nodded to Canada in his outrageously accomplished body of work, but now he turns the spotlight full-beam on his homeland.

His hilarious and heartfelt new book is part memoir, part history and pure entertainment. It is Mike Myers' funny and thoughtful analysis of what makes Canada Canada, Canadians Canadians and what being Canadian has always meant to him. His relationship with his home and native land continues to deepen and grow, he says. In fact, American friends have actually accused him of "enjoying" being Canadian and he's happy to plead guilty as charged.

A true patriot who happens to be an expatriate, Myers is in a unique position to explore Canada from within and without. With this, his first book, Mike brings his love for Canada to the fore at a time when the country is once again looking ahead with hope and national pride. "Canada" is a wholly subjective account of Mike's Canadian experience. Mike writes, "Some might say, 'Why didn't you include this or that?' I say there are 35 million stories waiting to be told in this country, and my book is only one of them."

This beautifully designed book is illustrated in colour (and "not" color) throughout, and its visual treasures include personal photographs and Canadiana from the author's own collection. Published in the lead-up to the 2017 sesquicentennial, this is Mike Myers' birthday gift to his fellow Canadians. Or as he puts it: "In 1967, Canada turned one hundred.Canadians all across the country made Centennial projects.This book is my Centennial Project. I'm handing it in a little late.... Sorry."
I grew up a few years later and a few kilometers west of Mike Meyers, and have been a fan since the first time I heard him say, 'Party On, Garth'. I loved most of this book, it was basically my childhood made much funnier – I literally kept reading parts aloud to my guy or forcing my tablet into his hands so he could read for himself.
Having spent many years working remotely for US companies – try explaining that a 'traditional Canadian summer evening' is literally Muskoka chairs, a 2-4, and a lake, the sounds of a loon in the background – I feel Meyers' pain at trying to forge an identity of a nation without much of an identity. (We uh, we're funny, sarcastic, and we say 'Sorry' a lot.)
What bugged me was the dichotomy of the history lessons mixed in with the funny, and I found myself skimming to get back to the funny. I wanted more stories of the Canadians – SCTV, Hilarious House of Frankenstein, Kids in the Hall – and less of a 'Hey, Look, Canada has history, here's an abbreviated lesson just to prove it.'
But if you remember being asked 'Do you wanna go faster?' or the lonesome call of 'Doggie Doggie', or just want to know why the heck you'd have heard that, you need to read this book.